Graduate Delivers Books to Kenya
by Eris Geismar
Newsday, July 2011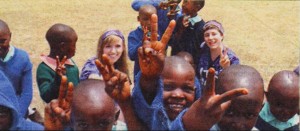 Meghan Spillane, who turns 18 this month, wonders how many of her peers at Shoreham-Wading River High School returned textbooks at the end of each year without ever having opened them.
Then she thinks about Meru, a small eastern village in Kenya where she spent winter break in February helping deliver used textbooks to schools that had never owned any.
"The head of the schools was so happy to have us," said the 2011 Shoreham-Wading River graduate. "I felt really spoiled and sheltered. I'd never seen anything like it before."
Spillane, of Shoreham, went to Kenya three times during high school as an active member of the Global Awareness club, an extracurricular club advised by social studies teacher Kevin Mann. spending $2,500 of her own money each time she made the trip, Spillane said it was worth it to see firsthand how the textbooks, medical and school supplies they'd donated help the children.
The trip "was not a classic American high school experience," she said. "But I wouldn't change it for the world."
The Global Awareness Club helps support the Hope Children's Fund through a series of fundraisers. Mann is the vice president of the HCF, a nonprofit based out of Port Jefferson that works directly with the village of Meru.
Mann said though school is out for the summer, the club is still seeking donations through the HCF and hoping to ship the container in September.
Donors can obtain information at http://hopechildrensfund.org/help.html.