Hope Comes to Kenya
A brighter future is within reach for a group of homeless children,
thanks to Larry Hohler and a young man he mentored.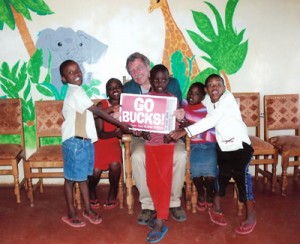 Risper Mwendwa (pictured second from left), was a child when she lost both parents to AIDS. With no extended family able to care for her, she scavenged on the streets of Meru, Kenya, to stay alive.
In 2005, Risper was brought to a children's home in Meru, where she thrived. She is now 12 years old and at the top of her class in primary school.
Risper's story and mine are intertwined with the story of that place, Hope Children's Home.  I graduated from Ohio State in 1966, a new teacher with no idea of the opportunities the world would someday offer me. I was recruited by the Peace Corps, and I completed an application with the hope that I might be sent to Africa, a continent that had long fascinated me.
Although I ultimately chose to join a school district on Long Island instead, my dreams of Africa didn't die. When I became eligible for a year's sabbatical in 1975, I submitted a proposal that involved teaching in East Africa. The proposal was accepted, and my wife, Yvette, also a teacher, took a leave from our district to join me.
The people at Gikumene Secondary School in Meru were happy to have certified teachers working with them. Most of their staff was composed of "form four leavers," young men who had graduated from secondary school but had no formal training in education.
Of the many hard-working students in my classes, one boy in particular stood out. Joseph Kirima Rwito wasn't the brightest student, but his enthusiasm was boundless. I visited his family's small farm and went for walks with him in the countryside, learning about the lives of the local people. When it came time for Yvette and me to return home, we agreed to stay in touch.
After graduating from secondary school, Joe took a dead-end job at the local coffee cooperative. Frustrated, he wrote to us: would we be willing to pay for the two -year course at a nearby teacher training college?
That $4,000 turned out to be the best investment we ever made. Joe became a primary school teacher, a headmaster, a teachers' union leader, the chair for education outreach at his church, and an advocate for homeless children.
In the late 1990s, Joe wrote to me about the increasing numbers of very young people living on the streets of Meru Town. The AIDS pandemic was raging, and children often found themselves homeless after the deaths of their parents.
Joe started a program at his school to provide a daily meal for some of these children, but he knew he was struggling against the tide. Each night the orphans would return to the streets; each morning they came back to school in the same desperate condition as the day before.
When a building became available, Joe asked us to help him raise the money necessary to purchase it and convert it into a haven for street children.
I had just retired, and had the time ans interest to help. We registered as a not-for-profit foundation and began a campaign on both continents that enabled us to buy the building and construct an adjacent dormitory.
The doors of Hope Children's Home opened to the first 18 homeless boys and girls in January 2005. Since then, our numbers have grown to more than 50, ranging in age from six to 14. All are in school, and most are doing well.
Risper Mwendwa, like many of our children, wants to become a teacher herself. Our plan is to help her and the others make their dreams come true.
The key to progress in any developing country is education. If the horrendous strife that has engulfed Kenya recently is to be ameliorated, children like ours must be allowed to reach their potential.
Education made it possible for me, the first member of my family to attend college, to see and do things I had only dreamed of. We hope to continue the process with the young Kenyans now in our care.
Larry Hohler is co-president of Hope Children's Fund. He and his wife live in Port Jefferson, NY.
Learn more: (631)473-1662
www.hopechildrensfund.org