Making Their College Dreams A Reality
Kids go from the streets to the schools of Kenya
NonProfit has challenge of funding college educations
by Elana Glowatz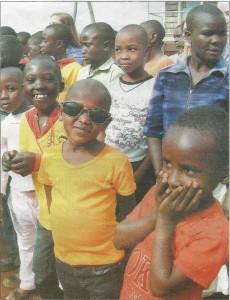 The Port Times Record
October 11, 2012
After years of hard work to give AIDS-affected Kenyan orgpans a home and an education through secondary school, Hope Children's Fund now faces the challenge of putting its first group of kids through college.
Jane Mwendwa and Betty Gakki, two of the young ladies from the Jerusha Mwiraria Hope Children's Home in Meru, Kenya, have already begun the first year of their higher education.  The Global Awareness Club at Shoreham-Wading River High School, which has a close connection to nonprofit Hope Children's Fund and takes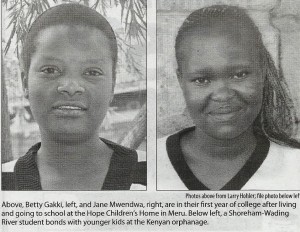 annual trips to the orphanage at the top of Tungi Hill, raised the money for Mwendwa's Tuition, room and board for her first year.  Gakki's first year is being funded by a grant from The Walt Disney Company.
But the remainder of Mwendwa's and Gakki's college educations are up in the air as Hope Children's Fund founder Larry Hohler looks for a way to fund them.  Adding to the challenge, there are several more students coming behind the 19-year-old girls.
According to Hohler, a Port Jefferson resident, there are 24 kids in high school now who will be testing to get into college, though there is no guarantee that they will pass the exam.
Kevin Mann, an HCF member and a teacher at Shoreham-Wading River, said the students who do not pass the test will go to the technical training center the locally-based nonprofit is building at the Kenyan orphanage.  The center will teach tailoring, carpentry and other skills.
The cost of a college education in Kenya is significantly lower than in the states. HCF needs to raise about $2,100 for Mwendwa's second year at Kenya Methodist University, where she is studying to be a pharmacy assistant. Gakki is studying to be a secondary school teacher at Chuka University College, which costs about $1,000 per year. HCF also needs to fund whichever students pass the college entry exam.
To help raise the funds, the nonprofit is hosting its seventh annual Celebration of Hope on Saturday, Oct. 13, at the Port Jefferson Village Center on East Broadway from 3 to 7pm. With a $45 donation, the October Fest will include Tusker East African beer, wine and a buffet.  There will also be Kenyan crafts and live music.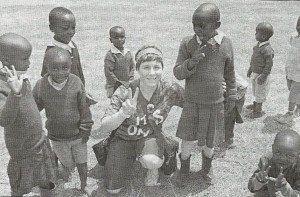 Mann said part of him thinks his group won't be able to raise all the money it needs to send all the kids to college. But another part of him believes it could happen, since what Hope children's Fund has already accomplished far exceeds what its members set out to do.
When Hohler founded the nonprofit in 2002, the goal was to house 18 children in the orphanage by 2008, The Jerusha Mwiraria Hope children's Home opened in 2005 and now houses more than 75 kids, some orphaned, some rescued from unsafe conditions and others who needed help to have a better life.
Hohler said his group took a 12-year-old Mwendwa off the streets in 2005 when her parents died and her grandmother could not afford to take care of her.
At the home, Mwendwa would memorize poems and song lyrics, Mann said, and would recite prayers and good wishes for others. He called her a "very, very bright young lady." Mann said after she left high school and prior to start of college, she took business and computer courses to add to her skill set.
Gakki was brought to the home in 2007 after her mother, who was raising her and her siblings alone, could not afford her education.
Mann said bothe Mwendwa and Gakki have bubbly personalities, but called Gakki "more of a laugher."
The Kenyan teenagers are the orphanage's first kids to go to college.
"They're stars," Hohler said. The students at the orphange come from the streets of Kenya, but with their academic achievements, they have become role models for the other kids around them.
Hohler recently recieved a letter from Mwendwa, after her first days at school. he read the note, in which Mwendwa repeatedly expressed her gratitude for all the people who have supported her and sponsored her through school.
"I appreciate so much for what they have done for me," Hohler read.
Mwendwa wrote that she would keep everyone in her prayers.